Looking for an easy, healthy and delicious frozen breakfast for your kids this summer? These frozen watermelons are a delicious treat to serve the crowd!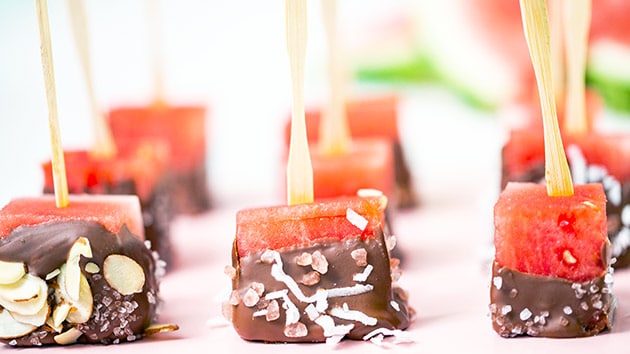 Is watermelon good after freezing?
The short answer is yes. You can freeze the watermelon and eat it frozen and it is still delicious! Once the frozen watermelon is thawed, it will become a mush. But there are many things you can do with frozen watermelon, so don't throw away your old watermelon!
Ways to use frozen watermelon
Turn it into jam
Make cakes from watermelon, granite or sorbet
Mix it into a smoothie
Mix watermelon and other fruits of your choice and make cakes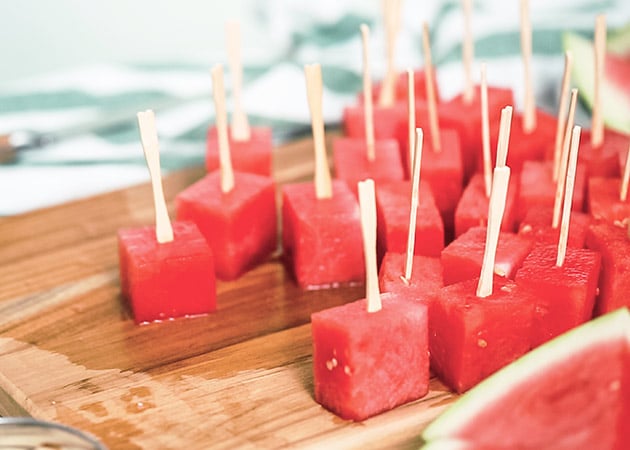 How to cut watermelon for children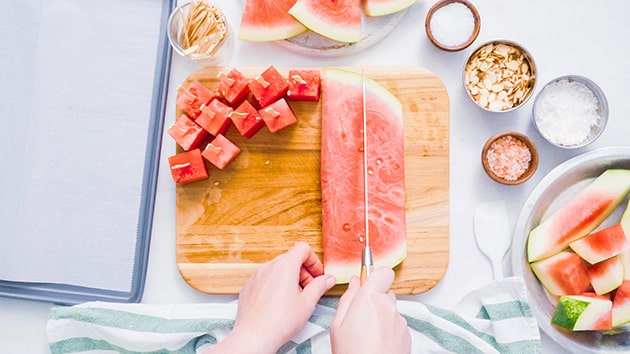 To begin, cut the watermelon into discs.
Cut the discs into "strips" and then cut them into smaller cubes for a smaller size. Basically, you just want pieces that would make good cake shapes.
To see how we like to cut watermelon, check out this post.
Place a stick of jam in the center of each piece.
How to make a watermelon
Once your watermelon is sliced ​​and the fruit sticks are inside, you can start dipping!
Melt your chocolate in a microwave-safe oven in 30-second increments. Stir between every 30 seconds.
Allow the chocolate to cool for just a few minutes before dipping.
Take each cube of watermelon and dip in the chocolate so that the chocolate comes about halfway up. You can use a spoon to spread the chocolate on the watermelon.
If you want to add garnishes, sprinkle them now while the chocolate is still a little melted.
Place on a baking sheet lined with a piece of baking paper.
Place the baking sheet in the freezer for 2 hours or until frozen.
In a few hours you will have delicious sweet watermelons! You can collect a huge batch of them in about 10 minutes. And not only are they fast, but they are also cheap! You can make one of these pops for about 10 cents depending on how much you get the watermelon for. And you can feel good by letting your children eat more than one because they are full of nutrients.
1

average

watermelon

1

cup

chocolate bits

pastry sticks
Cut the watermelon into disks and then into large cubes.

Put a stick of jam in each cube of watermelon.

Melt the chocolate in the microwave in a microwave safe for 30 seconds. Stir between 30 seconds.

Dip each cube of watermelon in chocolate and sprinkle with garnish. Place on a baking sheet covered with baking paper.

Freeze for 2 hours or until each watermelon freezes.

Serve and enjoy or place in an airtight container for up to 2 months in the freezer.