Winter is such a special time already, but especially for moms-to-be! Celebrate this time with a winter baby shower you'll remember for winters to come! From the sparkles of the holidays to faux snow, there are so many ways to add a bit of winter into your party. We've gathered a few of our favorites, but don't forget you can add a bit winter decor to any theme! Here are some of our favorite winter baby shower themes & their coordinating Sexy Mama dresses and gowns!
Winter Wonderland Baby Shower
A clear, top choice for winter baby shower themes is a winter wonderland party! Add some faux snow and a sparkling tree for a gorgeous, and easy, baby shower theme!
Below, Mama wears her Off the Shoulder Sweetheart Maternity Dress with Short Sleeves in Royal Blue. To tie in that she is having a boy, she added pops of blue into her snow-covered tree and snowflake decor.

Having a girl? Follow this Mama's recipe for the perfect and pink, winter wonderland baby shower! She wears the Off the Shoulder Ruched Maternity Dress with Long Sleeves in Blush Pink to match her sparkly winter wonderland shower.

Christmas-Themed Winter Baby Shower
If you're lucky enough to be pregnant at Christmas time, you can have the most adorable Christmas baby shower! Mama wears her Deep Scoop Bell Sleeve Flare Maternity Gown in Red. Pops of red and silver make for the prettiest decor to match her theme. However, you could also add olive green for a more traditional Christmas theme!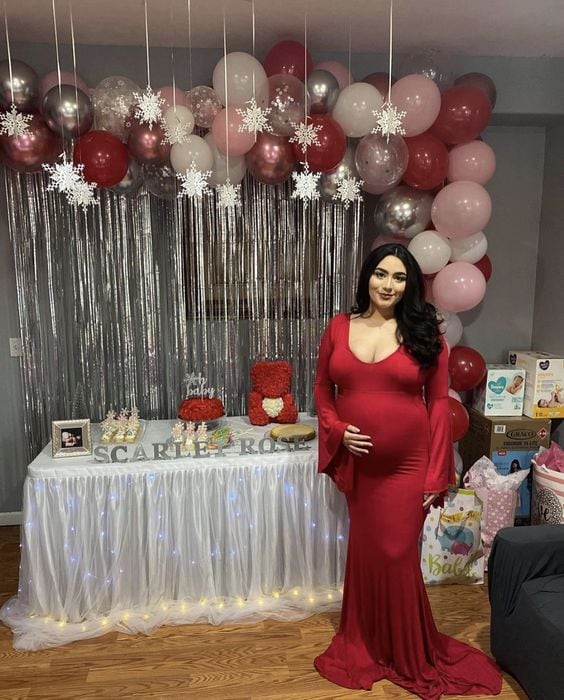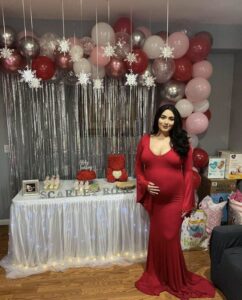 Snow Excited for Baby
If you're snow excited for baby, why not make this your theme?! Icicles and snow make for a magical baby shower theme that you and your guests will remember forever! Pair your theme with a white or blue dress to tie in the theme perfectly! Mama wears her Ruched Fold Over Flare Maternity Gown with Long Sleeves in Sky Blue!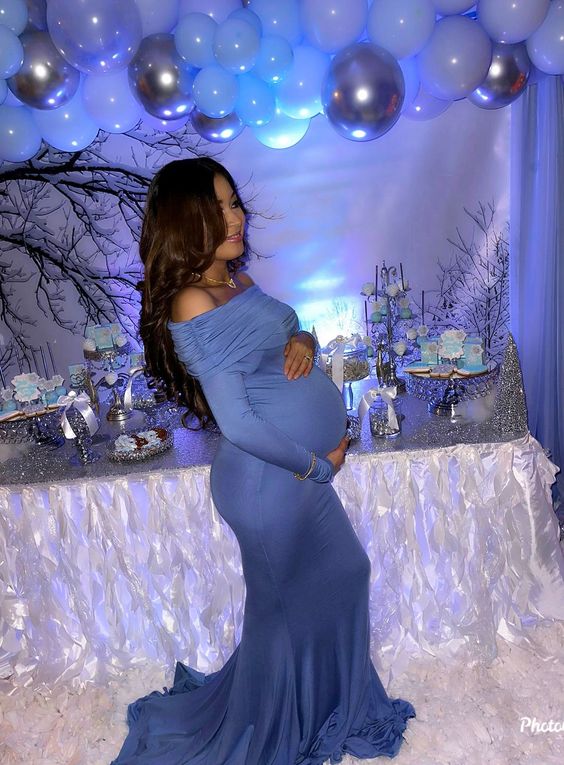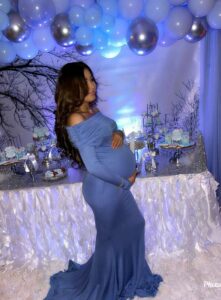 Buffalo Plaid Baby Shower Theme
We are obsessed with this adorable baby shower theme! Nothing says winter like plaid and pops of rustic touches! Red and black buffalo plaid is a classic, as shown below, and adds just the right amount of holiday fun! Pictured in Red, Mama wears our Off the Shoulder Sweetheart Maternity Dress with Short Sleeves!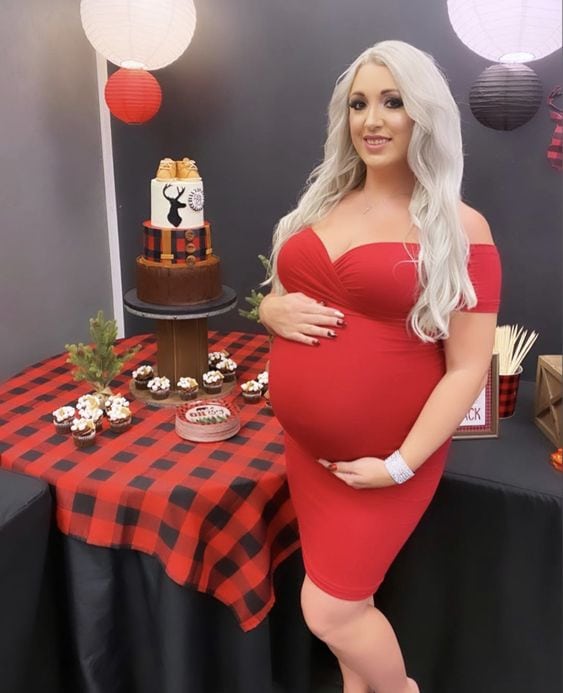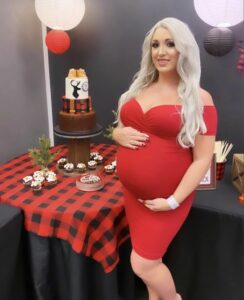 Baby, It's Cold Outside
Here at Sexy Mama, we love a good pun and a cute baby shower theme! This shower has both and then some! This party features faux snow, a cute banner, and a gorgeous dress. What more could a mama-to-be throwing a winter shower ask for!? Mama wears our Cross Bust Maternity Dress with Long Sleeves in Red!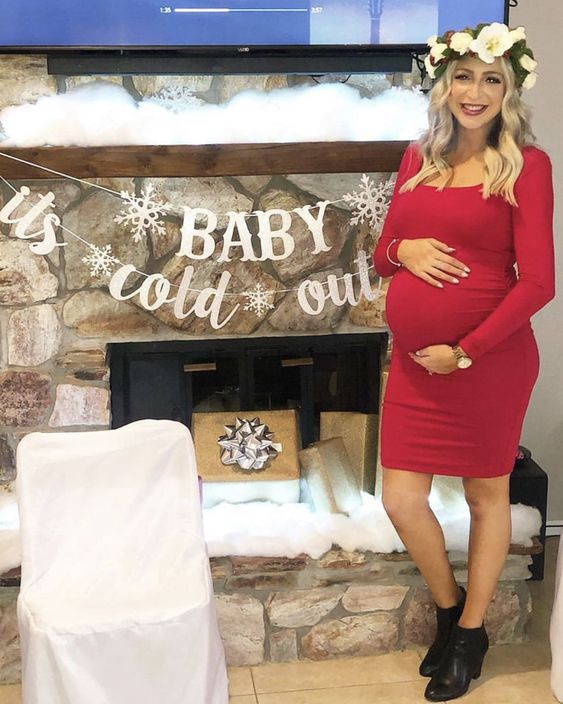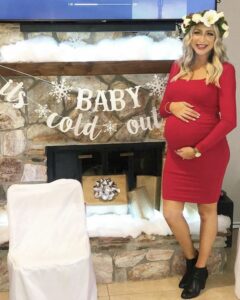 Twinkle Twinkle, Little Star
Sparkle and shine at your baby shower with this lullaby themed shower. Chose from silver and sparkly shades for a perfect decor and dress combination. Mama wears our Off the Shoulder Sweetheart Maternity Dress with Long Sleeves in White!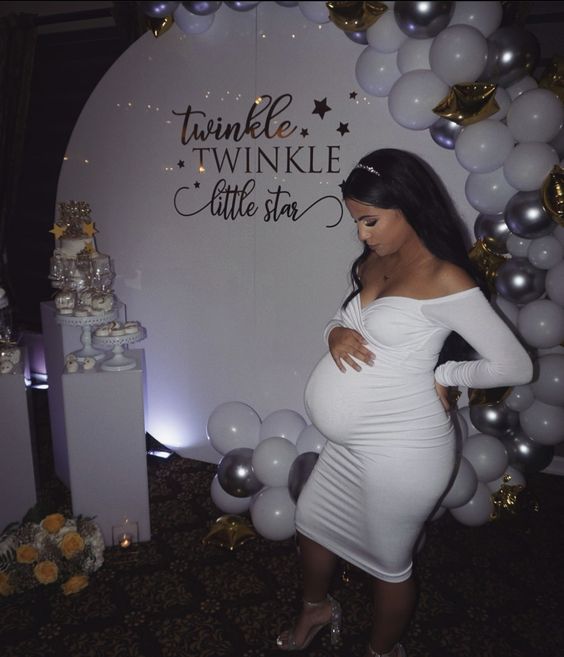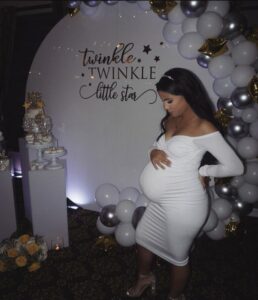 You could also opt for a shimmer max dress to match the decor and theme, as Mama below did! She wears the Shimmer Maternity Maxi in Pink!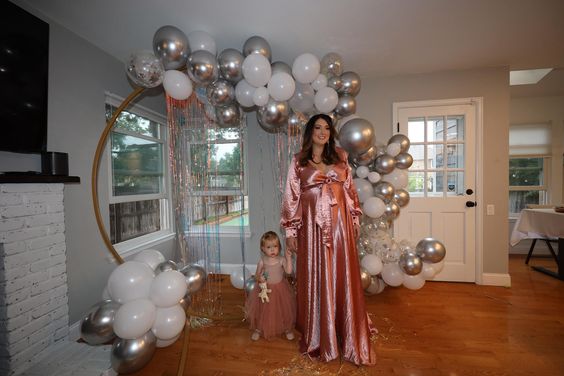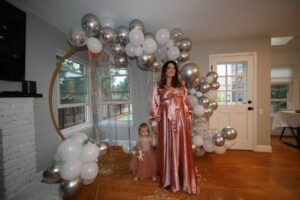 Boho Baby Shower
A year round classic that can be adapted for cold weather is a boho themed baby shower! This on trend style is perfect for mamas who love the boho vibes. Add a long sleeve gown or dress for the perfect winter baby shower! Green with pops of gold is an on trend style shown perfectly in the Long Sleeve Mock Neck Maternity Gown with Mini Train Succulent pictured below!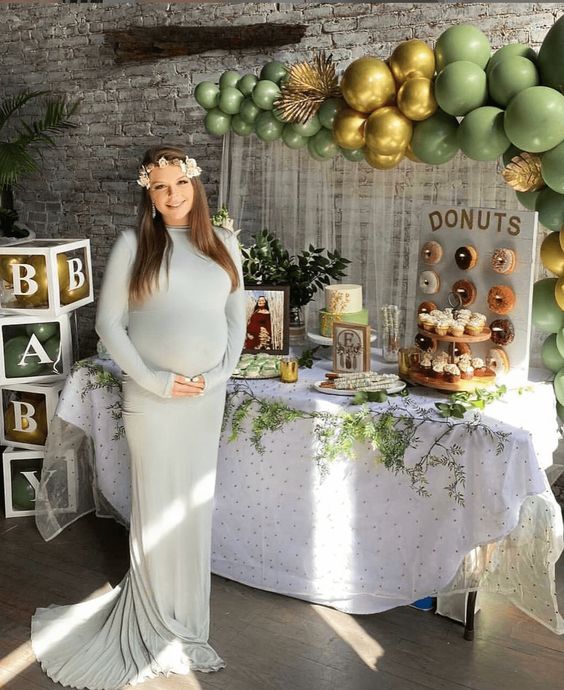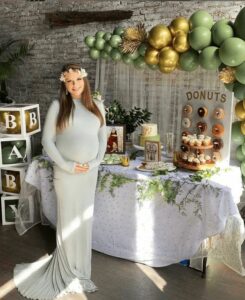 You can still have the pastel, boho shower of your dreams too! Add a long sleeve gown for extra warmth to create the perfect winter baby shower style. Mama wears our Long Sleeve Sweetheart Maternity Flare Gown in Lilac!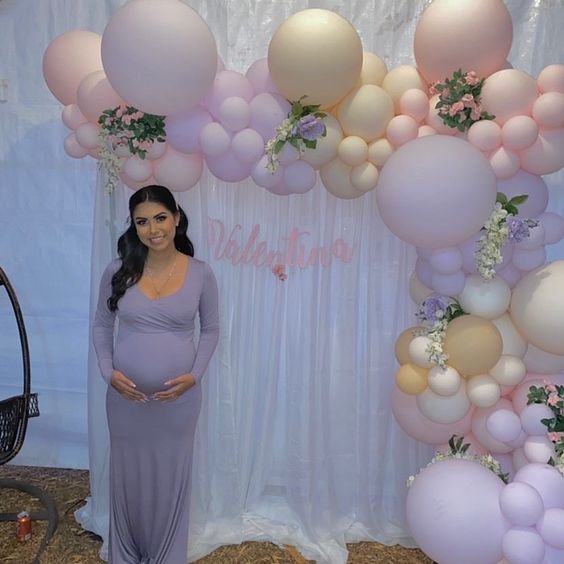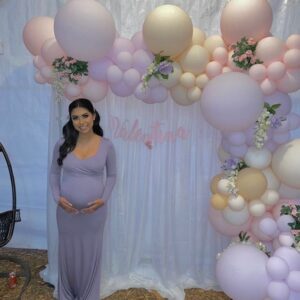 These were a few of our favorite winter baby shower themes. However, no matter the theme, you can find a way to adjust or add elements to create your dream shower during any season!
Need help with sizing and styling?! Sexy Mama Maternity is always here to help find the perfect baby shower outfit for you! Reach out on the chat window at the bottom right corner or shoot us an email at [email protected]. We can't wait to hear from you!